| | | |
| --- | --- | --- |
| | Hubert's aerogel page | |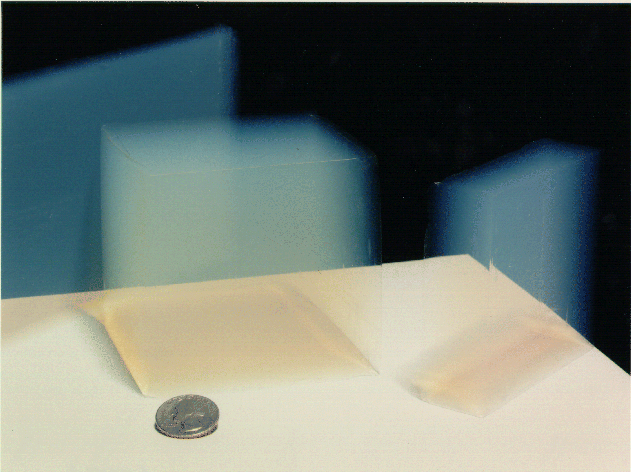 Photo taken at JPL by Robert M. Brown
On this page I keep references to aerogel. If you know of existing links, or new documents that could go on this page, let me know at hubert@lanl.gov.
A lot of this info I have not yet typed in, but I will do so as soon as someone bugs me.
---
---
References on aerogel and light scattering:
'Bulk and surface light scattering from transparent silica aerogel'
W. J.Platzer and M.Bergkvist
Solar Energy Materials and Solar Cells 31 (1993) 243-251


'Scattering of visible light from silica aerogels'
A.Beck, R.Caps and J.Fricke
J. Phys D: Appl. Phys. 22 (1989) 730-734


'Optical investigations of silica aerogels'
P.Wang, W. Korner, A.Emmerling, A.Beck, J.Kuhn anf J. Fricke
J. of non-crystalline solids 145 (1992) 141-145


'Light scattering for structural investigation of silica aerogels and alcogels'
A.Beck, O.Gelsen, P.Wang and J.Fricke
Proceedings of the 2nd international symposium on aerogels (ISA2),
Revue de physique appliquee, colloque C4, supplement au Journal de Physique 4, vol 24 (1989) 203.

'Scattering from microrough surfaces: comparison of theory and experiment'
Y.Wang and W.L.Wolfe
J. Opt. Soc. Am. vol.73, no.11 (1983) 1596.

---
Literature references:
Use of aerogel for imaging Cherenkov counters. NIM A349 (1994) 431.

nim 195 (1982) 491-503 old paper on making aerogel

popular science feb 93. about all the uses of aerogel

science news 138, pg 316 aerogels, including new organic ones

proc. of the intern. symposium on aergels, sep 30-oct2,1991, wurzburg,germany this is by arlon Hunt on the new method for making aerogels. It has transmission measurenments of extremely good stuff in it.

ieee transactions on nucl science, vol NS-27, no 1, feb 1980 early article on a'gel for cherenkov application.

chemical processing of advanced materials, l.l.Hench and J.K.West, editors, isbn 0-471-54201-6. 1992 John Wiley and SOnls, Ltd. this is written by Larry Hrubesh, about how to make the new aerogel.

aerogels. proceedings edited by j. Fricke. Springer-verlag. In this there is an article by Hunt on making the new a'gel for windows.

nim 225 (1984) 313. on the a'gel detector of the EHS experiment

Nim 154 (1978) 253 test of a'gel counter

journal of non-crystalline solids 145 (1992) 44. Hrubesh and Tillotson on making the new a'gel.

J. Am.Ceram. Soc 75[8] 2027 (1992) This is an excellent review article on a'gel history, production and applications. written by Jochen Fricke and Andreas Emmerling, U. of Wurzburg, Germany.

talk by oyang on r&d for the slac b-factory. at the DPF meeting in Batavia, Nov 10-14, 1992

Internal writeup by Takuya Umeda, Hiroshima U. on a a'gel counter for pi-d reaction experiment.

Int. workshop on b-factories. KEK, japan Nov 17-20, 1992 talk by I. Adachi/KEK on r&d on the kek b-factory a'gel counter

use of a'gel for imaging cherenkov applications, Nim , in press By me and Doug Fields.

refs: QC1.J68 (1989) no.C4 c.1 [2nd intnl. symp on aerogels, Montpellier] QD549.A255 (1986) c.1 Aerogels.[1st intnl...] 535 D63L3 v.2 c.1 Light R.W.Ditchburn

nim 225 (1984) 313

nim 154 (1978) 253

nim 177 (1980) 337

nim 192 (1982) 209

nim 224 (1984) 110

nim 225 (1984) 313

nim 228 (1985) 314

nim a248 (1986) 118

nim a248 (1986) 110

nim a333 (1993) 413

nim a315 (1992) 517

nim a272 (1988) 660


---

Last update November 2009 - HvH
back